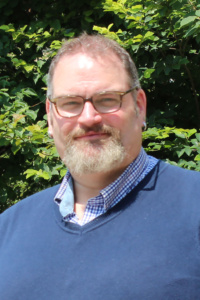 William "Woodg" Horning is the director of the Arthur O. Eve Opportunity Programs (EOP/HEOP) and the Office of Academic Diversity Initiatives (OADI) at Cornell University. Woodg has worked in higher education at Cornell for 21 years and with opportunity programs for 15 years.
Woodg has his bachelor's degree from West Chester University of PA in Music Education and his Master of Professional Studies in Community and Rural Development from Cornell. He is proud to be a first-generation college graduate, not once but twice! Throughout his studies, he explored education, opportunity, and access. His work with opportunity programs has been an extension of his education and allows him to put his passion to work.
At Cornell, Woodg started his career in student activities for six years. Woodg made the transition to opportunity programs where he served as the assistant director for three years before moving into the director role. This is a unique role because Cornell offers both the Arthur O. Eve Educational Opportunity Program and the Higher Education Opportunity Program since both state and private colleges are represented at Cornell.
Outside of his day-to-day responsibilities at Cornell, Woodg also serves as the president for the HEOP Professional Organization, a statewide organization serving all HEOP programs in New York. He was originally elected as vice president and served for five years before being elected president in 2019. He works closely with the State Education Department and Cornell's government relations team on advocacy efforts around access and equity in education. Woodg stresses the importance of advocacy to his students and is proud to lead several trips a year to Albany with students, allowing them to tell their stories. Additionally, he serves as a resource for other HEOP directors across the state.
In the local community, he has served in several leadership positions at his church, St. Luke Lutheran Church in Ithaca, NY. He also currently volunteers with the Cornell Raptor Program where he has the pleasure to work with injured and captive raptors such as red tail hawks and golden eagles who are educational ambassadors. He enjoys the outdoors and finds peace in the connection with nature and wild animals.
Areas of expertise: Arthur O. Eve Educational Opportunity Program, the Higher Education Opportunity Program, government relations, advocacy efforts, first-generation college students