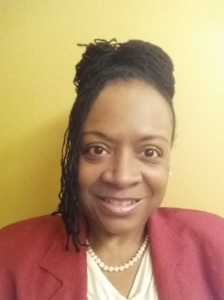 Dr. Jenice Sabb-Dumas is currently the Assistant Dean and Director of EOF at Rutgers University New Brunswick School of Environmental and Biological Sciences. Prior to coming to Rutgers, Jenice worked at NJIT and Seton Hall University where she was an administrator and taught college mathematics courses. Jenice is a former EOF student, graduating from Rutgers University—Cook College (1987) with a BS in Economics and Seton Hall University—Paul W. Stillman School of Business (1990) with an MBA in Finance. She has earned her Doctor of Education degree from Rutgers Graduate School of Education (2015) where her dissertation focused on the potential influence of pedagogical practices on first-year student success in introductory chemistry courses.
Dr. Sabb-Dumas has worked with opportunity programs for more than 30 years. Using a progressive network of services, Dr. Sabb-Dumas seeks to unmask myths and highlight the benefits of scientific research to encourage students to consider doctoral studies. Understanding the personal desires of students who are marginalized by a society that uses assessment and finance to determine access and opportunity, Dr. Sabb-Dumas uses her research to inform academic and administrative policies by including student voices to create academic pedagogy to enhance learning outcomes for science students.
As a mathematics instructor, Dr. Sabb-Dumas used her classroom as a real world laboratory engaging the use of manipulatives and student experiences to enhance understanding and analytical skills. Believing that the use of culturally relevant pedagogical practices supports learning outcomes, Dr. Sabb-Dumas focuses on instructional practices that impact student learning outcomes, promote community responsiveness, and enhance student participation in graduate degree studies. Using her knowledge of curriculum and instruction, Jenice has developed a series of courses designed to facilitate first-year student transition from high school student to college scholar. This effort has developed a successful first-year experience curriculum for EOF, and other first-generation populations, at SEBS and has been adapted to meet the needs of SAS EOF student populations. Her design of the SEBS EOF probation seminar influenced the creation of the current SEBS PASS course. She currently serves as an instructor in the SEBS PASS and Freshman Academic Mentoring courses. Additionally, Jenice has used her instructional skills to develop science and mathematics curriculum for Delta Sigma Theta Sorority, Inc. Dr. Betty Shabazz Delta Academy and Delta GEMS Initiatives which seek to enhance self-esteem, college exposure, and scientific inquiry skills for young women in the inner cities.
Dr. Sabb-Dumas is an advocate for education. Jenice has delivered presentations at regional and national conferences focusing on excellence and best practices in post-secondary education. Jenice has also written grants to fund academic initiatives that promote STEM education in higher education. Dr. Sabb-Dumas is a recipient of the Rutgers SEBS NJAES Staff Excellence Award, George H. Cook Distinguished Alumni Award, and labors to enhance the educational experience for all SEBS students.
Dr. Sabb-Dumas has served EOFPANJ for many years. In her current role she serves as Immediate Past President supporting the current boards vision of EOFPANJ; in prior roles Dr. Sabb-Dumas has served as President, Vice President, Financial Secretary, Corresponding Secretary, chaired several conferences, committees and coordinated many events.
Areas of expertise: Higher Education Access and Equity, Program Development, First-Generation and Low-Income Student Success, STEM Teaching Pedagogy, STEM Student Retention, First-Year Experiences & Bridge Programs, Effective Team Building Strategies, and Student Financial Aid