The Tri-State Consortium of Opportunity Programs in Higher Education is a not-for-profit association of volunteer members in New Jersey, New York and Pennsylvania.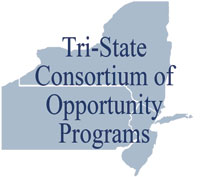 It represents educational institutions, state education agencies and others involved in the administration of state-supported educational opportunity programs in post-secondary education. At these institutions, the opportunity programs serve tens of thousands college students from educationally and financially disadvantaged backgrounds.
It is our goal to produce a cadre of educated citizens who will be well versed, sensitive to issues of cultural diversity, and have a heightened sense of social responsibility as they set forth to enhance the quality of life in the respective communities they serve.
---
Biennial Conference
Our next conference will take place in Long Island, New York from April 13 – 17, 2019 with the theme "Creating New Futures by Educating and Liberating for Life in an Era of Change". Make your plans to participate!
Register for the Conference
Tri-State Conference Registration is now open. Regular registration for the conference closes on February 20, 2019.
The conference will take place at the Long Island Marriott, 101 James Doolittle Boulevard, Uniondale, NY 11553.  Reservations can be made by calling 1-800-228-9290 or clicking the hotel link. When reserving your room, simply mention that you are with the Tri-State Consortium and you will receive a discounted rate of $159 per night plus state and local fees and taxes; all reservations must be accompanied with a major credit card. In order to take advantage of the $159 rate, reservations must be made no later than Friday March 22, 2019.
Here is a Save the Date flyer (PDF).