Welcome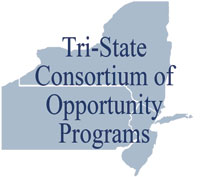 The Tri-State Consortium of Opportunity Programs in Higher Education is a not-for-profit association of volunteer members in New Jersey, New York and Pennsylvania.
It represents educational institutions, state education agencies and others involved in the administration of state-supported educational opportunity programs in post-secondary education. At these institutions, the opportunity programs serve tens of thousands college students from educationally and financially disadvantaged backgrounds.
It is our goal to produce a cadre of educated citizens who will be well versed, sensitive to issues of cultural diversity, and have a heightened sense of social responsibility as they set forth to enhance the quality of life in the respective communities they serve.
---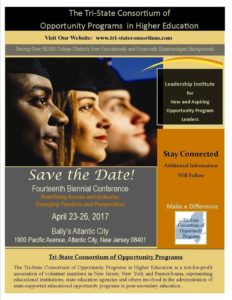 2017 Conference
The 14th Biennial Conference was held April 23-26, 2017 at Bally's Atlantic City at 1900 Pacific Avenue, Atlantic City, NJ 08401.
Follow Facebook for photos and content being shared after the event. Participants in the Leadership Institute will receive follow up information soon.
Thank you to our conference sponsors: