Who is Tri-State
The Tri-State Consortium of Opportunity Programs in Higher Education is a not-for-profit association of volunteer educators, administrators, counselors, and staff, working in the state-supported educational opportunity programs in New Jersey, New York, and Pennsylvania.
President's Welcome
I invite you to join our membership, explore our website, attend our workshops and conferences, and share your ideas and experiences.
Read full message from Phyllis A. H. Breland
CONFERENCE UPDATE
Registration for the Tri-State Biennial Conference ends at 11:59 pm on Friday, March 24.
Please note that we will not accept registrations or payments on-site. All registrations and payments must be handled by March 24. Any questions or concerns pertaining to registration can be sent to one of the registration co-chairs, Dr. Andre Turner ([email protected]) or Nancy Cintron ([email protected])
Save the Date for the Conference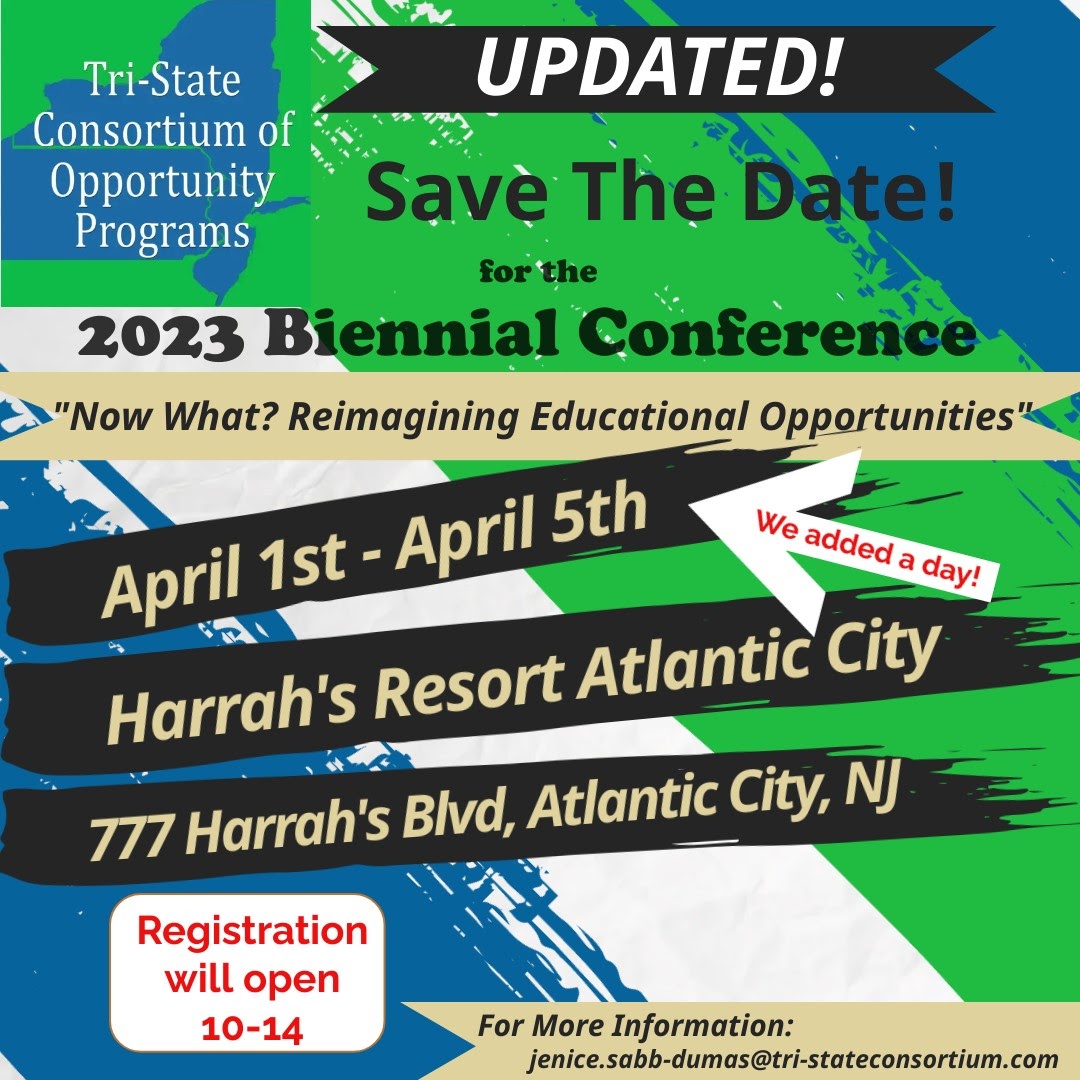 The conference will be April 1-5, 2023, at Harrah's Resort in Atlantic City. Register for the 2023 conference now.  Follow the Conference webpage for more updates too! 
Career Opportunities
Brown University is searching for its next Associate Vice President in the Office of Institutional Equity and Diversity (OIED). Brown …
Read More
Promising candidates for the Executive Directive position will demonstrate through study, writings, work experience and /or personal activism a world …
Read More
Dr. Harvey Kesselman, Stockton University's fifth President, participated in the 2017 Tri-State Consortium conference. He shared his thoughts about the important of the TSC conference.
Student Outreach
Visit our Career page to see current internships and opportunities for students.
This REU introduces undergraduate students to the key elements of research on land and water resources that are essential to …
Read More
I am Kyleef A. Warren '22, a recent graduate from Bloomsburg University, and a native to Philadelphia, PA. I did …
Read More