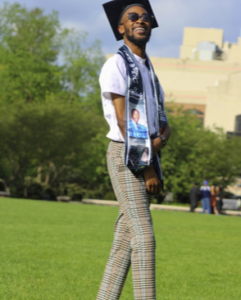 I am Kyleef A. Warren '22, a recent graduate from Bloomsburg University, and a native to Philadelphia, PA. I did not know much about college before attending, but the support system I received once I arrived to school was extensive. Becoming the first person in my family to receive a degree was the best feeling in the world, but I couldn't do it without my support system that I gained. The Pennsylvania Act 101 Program has been my family and my support away from home. They have helped me with my academic success as a first-generation minority student – socially, mentally, and academically.
Eventually, I became comfortable and started making friends in school by going to events on campus and taking trips within the program. While in my freshmen year I received the Board of Governor's scholarship for full tuition, not only for my grades and how well I performed in my first semester but also because of my involvement on campus. I ended up becoming a Peer Mentor for the program, because I wanted to help people who did not have the same resources I had coming to school and I wanted to provide them with the resources I knew helped to make me the student I am today. I received the B.S.B.A degree in General Finance-Corporate with minors in Real Estate and Personal Finance Planning.
I am currently a Graduate Assistant for the Act 101 Program at Bloomsburg University and I am getting my master's degree in Information Technology. I could not have fulfilled these accomplishments without Act 101. I was provided with resources such as tutoring, financial aid information, workshops on how to take care of my mental health, and skills to help me stay focused and strive for excellence.
Now as a graduate, my journey continues knowing that I will always have the Act 101 Program to help me when I need it and accessible to make me feel like a family. When I look back and think about school I will remember all the great things that I have done and how I got to where I am today. This program is a great resource for fellow students and has done amazing things to help me and other students become successful. I have made tons of friends and I am growing professionally thanks to Bloomsburg University and the PA Act 101 program.