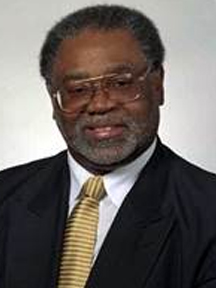 TSC was saddened to learn that Henry James Durand, Jr. Ph.D., on December 27, 2018. A member of the Tri-State Consortium for years, he dedicated his career to higher education and to promoting the outreach efforts of the TSC. Read the full obituary at The Buffalo News.
Dr. Durand was a member of the Graduate Faculty of the University at Buffalo, a Senator on the SUNY-wide Faculty Senate and a member of the UB Faculty Senate Executive Committee. His course offerings included the quantitative research core courses Statistical Methods for Educational Research, Survey Research Methods and Statistical Analysis Using SPSS. His discipline was Educational Sociology and he taught classes in American Pluralism, Education and Social Class, African American Students In Higher Education, Race and Ethnic Relations and related subjects. He has received many awards, including the SUNY Chancellor's Award for Professional Excellence, the Milton Plesur Award for excellence in undergraduate teaching, and the Grassroots' Cora P. Maloney award for service to the community. He was a cited alumnus of Denison University and received a B.A. from Denison University, M.Ed. from Xavier University of Cincinnati, a Doctorate from the University of Cincinnati, and was a graduate of both the Harvard Management Development Institute and the American Management Association Executive Programs.
The family requested that Dr. Durand's life and legacy be remembered by supporting the Drs. Henry J. and Bonita R. Durand Scholarship Fund, c/o University at Buffalo, Office of University Advancement, 503 Capen Ave., Buffalo, NY 14260-1660, [email protected].