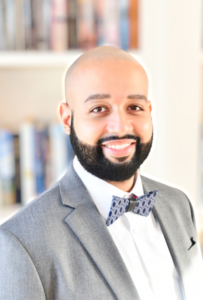 Mr. Michael A. DeJesus III, Ed.S. is founder and president of Reaching Higher Ed, an education company that specializes in access and equity in education. He also currently works as a Program Officer at the New York State Education Department (NYSED). There, he manages the Arthur O. Eve Higher Education Opportunity Program (HEOP) state-wide and serves as a liaison to HEOP institutions throughout the state.
Mr. DeJesus also has a long history of working in higher education having held roles as an adjunct history professor, in conference services, several roles in residential life, and served as director of an intercultural leadership and diversity program at a private liberal arts college. As an analyst at Empire State Development, he was instrumental in certifying hundreds of Minority and Women's Owned Businesses (MWBEs) to help them do business with New York State as well as providing regulatory guidance to New York State agencies to help them do business with MWBEs.
His passion for serving disadvantaged communities is not only evident in the career fields he has chosen but also through his volunteer service to his community and the furthering of his studies. He is an active member of Metropolitan New Testament Mission Baptist Church in Albany, NY. While serving in his church's Scholarship Ministry he has helped the ministry to expand its offerings to students in the congregation and the local community.  Due to his efforts, the ministry now provides writing workshops, financial aid workshops, and workshops educating students on how to apply to college. DeJesus is also a Ph.D. candidate working on completing his degree in Education Policy, Research, and Administration at the University of Massachusetts Amherst. There he is focusing on K-16 education policies as they relate to access programs and black male academic achievement. DeJesus works effortlessly to ensure that marginalized people and communities have a voice where their voices are often discounted are unheard.
He is super passionate about his work in education equity and describes his passion as his calling. Mr. DeJesus' tireless efforts have been recognized receiving the National Coalition Building Institute's 2010 National Coalition Building Leadership Award and the Corporation for National & Community Service 2012 Drum Major for Service Award. He is also a SUNY New Paltz 2022 40 Under 40 honoree being recognized by his alma matter.  DeJesus however, does not work for recognition but to help the voices of the oppressed to be recognized.
Areas of expertise: higher education opportunity programs, minority and women-owned business development, intercultural diversity programs, education policy, black male academic achievement
Save