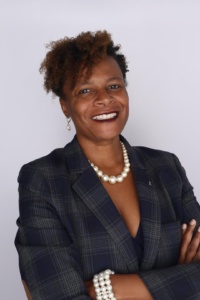 Barbara Harmon-Francis is a dedicated student advocate.  For over 20 years, she has assisted under-represented first generation students realize their dreams of obtaining a college degree.  Harmon-Francis graduated from The College of New Jersey (TCNJ) with a degree in Communications.  She then went to serve as one of the first class of AmeriCorps members in former President Bill Clinton's new service corps.  Here she became a part of a national initiative to improve the lives of all people by serving unmet community needs.  She learned new leadership skills and worked with hundreds of people in the state of New Jersey to improve the lives of children via childcare centers and community services.  It was towards the end of her year of service when she met then, First Lady Hilary Clinton, and was inspired to apply for the AmeriCorps Leaders program.  This highly selective program only took 50 people from across the United States.  Harmon-Francis was chosen and placed at the National Association of Childcare Resources and Referral Agency.  This is a national nonprofit that helps childcare centers, parents, and community organization better serve and advocate for children.  Harmon-Francis was sent to Washington, DC for one year to oversee numerous AmeriCorps programs in five states.  She was blessed to travel across the United States and work with various nonprofit agencies that helped and assisted the community.
After two years of service with AmeriCorps, Harmon-Francis went back to graduate school to earn a Masters Degree in Broadcasting, Telecommunications and Mass Media from Temple University.  After graduate school, She knew she wanted to continue to work with college students.  She was an administrator at Hudson County Community College (HCCC), TCNJ, and Rutgers University Educational Opportunity Fund (EOF) Programs.  Harmon-Francis has also taught Communications at HCCC, Middlesex County College, Rutgers University, and Ramapo College of New Jersey.
While at TCNJ, she started serving as a board member for the Educational Opportunity Fund Professional Association of New Jersey (EOFPANJ).  After two years as serving as a member at large, she became the first EOF Counselor to ever be elected as EOFPANJ President. While serving as the EOFPANJ President, she worked with the board to make the organization be recognized as a federal non- profit organization. While President, she also started the EOF Statewide Alumni Association (EOFSAA). She is currently serves as a Board of Director for the Tri-State Consortium of Opportunity Programs in Higher Education for New Jersey, New York and Pennsylvania.
Harmon-Francis is currently the Vice President for Student Success and Retention at Kean University.  She has been married for over 14 years to her loving partner, Owen G. Francis.
Areas of Expertise:  Retention, First-Generation Students, Program-Planning, Student Development