Printed version of the "At A Glance" booklet with room listings: Tri-State Conference Overview (PDF)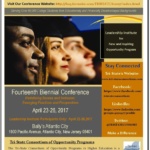 The 2017 Conference was held in Atlantic City for the 14th Tri-State Consortium Biennial Conference from April 23-26, 2017 at Bally's Atlantic City, 1900 Pacific Avenue Atlantic City, NJ 08401. Participants received critical information from forward thinking leaders regarding trends and achievements in higher education. The 14th Biennial conference theme illuminated Access and Inclusion: Emerging Practices and Perspectives.
We are pleased about the internationally and nationally recognized speakers who came to our opening session and daily conference plenaries. We featured speakers including The Honorable Secretary of Higher Education for New Jersey – Rochelle Hendricks, Dr. Terrell Strayhorn (Ohio State University), Dr. Sylvia Hurtado (UCLA), Dr. Jamil Salmi, Tom Mortensen, Gardy Guiteau (Rowan University), Stockton University President – Dr. Harvey Kesselman, Dr. David Ferguson (Stony Brook University), MPACK Group, and Kevin D. Wright.
In addition to the full conference, the Tri-State Consortium of Opportunity Programs in Higher Education conducted a Leadership Institute for new or aspiring program directors and other professionals who are looking to advance their careers or further their leadership skills during the conference.
We enjoyed welcoming you to Bally's in Atlantic City. Visit our Facebook page for photos and video links
Edith A. Corbin, Tri-State Conference Chair
Dr. Hasani Carter, President
Thank you to our 2017 conference sponsors:

Conference News