Welcome from Brian Bridges, Secretary of Higher Education
Secretary of Higher Education, Brian Bridges, welcomed over 300 Tri-State Conference Attendees on April 1, 2023.
Emerging Student Trends in Higher Education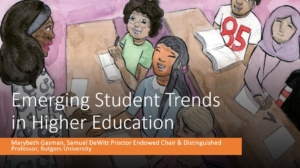 Marybeth Gasman, Samuel DeWitt Proctor Endowed Chair in Education, University Distinguished Professor. Rutgers University Associate Dean for Research, Rutgers Graduate School of Education, and Chair, Rutgers University-New Brunswick Faculty Council, presented to the conference and has shared her slides. Please click the image to view a PDF of her slides.